PCB Surface Mount Tactile Switches – SMD Brand New UK Seller
Surface Mount Tactile Switches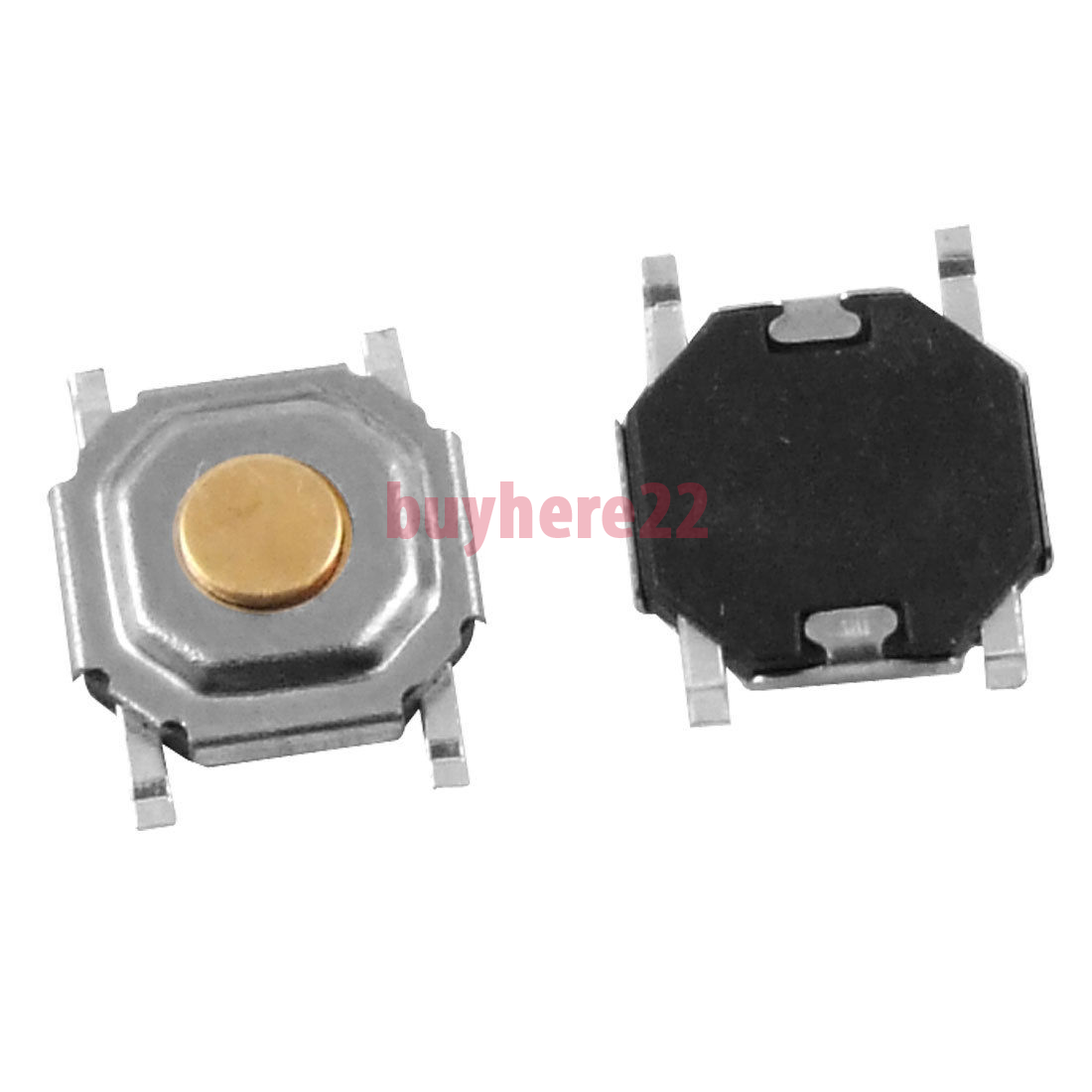 UK SELLER – UK STOCK
These high quality tactile switches which are ideal for anyone requiring a surface mount switch on a PCB or to replace an faulty switch.
As they are low profile and take up a relatively small amount of board space, they make great reset switches and other auxiliary inputs. The high quality internal mechanism allows for a large number of repeated button presses and a long service life.
Action type: Momentary
Dimensions (length x width x height): 5mm x 5mm x 1.5mm
Button Height: 0.5mm
Button Diameter: 2mm
Pin size (length x width): 1.3mm x 0.5mm
Pin spacing: 3.7mm x 5.3mmm
Rating: 12V DC, 50mA
Travel: 0.2mm ± 0.1mm
Operating Force: between 180 and 250gf ± 50gf
Contact Resistance: 100mΩ
Lifespan at 180gf:300,000 cycles minimum life
Lifespan at 250gf:100,000 cycles minimum life
For more technical details, please look at the datasheet: Download Datasheet.
Please read and note the following before ordering:
1) My Shipping is for UK Mainland ONLY. No Scotish Highland, Northern Ireland, Isle of Wight or other Isles. Some areas may incur additional costs, if you are unsure please contact me prior to ordering.
2) Please ensure you have a valid contact phone number, I may pass this number onto the Carrier for delivery. No refund for carriage cost will be offered, if delivery is delayed as a result of no valid contact number being provided.
3) I welcome collection for orders,please select collection on checkout otherwise your order will be despatched. Once your order has been picked and tested if applicable. We will then inform you of a date and time for collection. Please bring your payment card for verification when collecting your order. No order will be released without card verification.
4) I am unable to provide ANY technical support, please ensure you fully understand how this item works by checking for any datasheets (not provided with the item), to enable the product to be used within your application / project.
5) VERY IMPORTANT >> Do not make ANY permanent connections. Please test the item BEFORE making any permanent connections e.g. soldering to the item. Please ensure you have the means to test the item WITHOUT applying ANY solder to the item. If an item has any solder applied I will NOT accept any return.
6) When upgrading to 1st class post, (if the option is available), please note this is sent via Royal Mail and is not a guaranteed next day service. If you need a 48hr courier service please select courier delivery. No weekend or public bank holiday deliveries.
7) We attempt to send out all orders received before 12.00pm. This excludes weekends and public holidays.
8) Customers placing multiple orders. – I may ship all the orders as one, please do not ask for a refund of shipping cost after you have placed your orders. Please do not place your orders if you want a refund of shipping cost.
9) Some items may have a "Warranty Void if removed" sticker, please DO NOT tamper or remove these stickers. I will not accept any rertuns with tampered or removed sticker. Some buyers have tried to send back items that I have not supplied.
**** Important note **** Some sellers claim the stock is in the UK, please be careful, the seller is often in China and sends the item to a UK agent who then forwards the item on with a UK stamp. Check where the seller is located not just the item location. All my items are physically with me, here in the UK and I offer a quick delivery and communication within the UK.
During busy periods there maybe a delay in delivering your package by Royal Mail. I apologies in adavnce for any inconvenience but would like to point this out before you place your order.