OLED White 0.96″ I2C Serial 128X64 LCD Display Module
Collection Item ONLY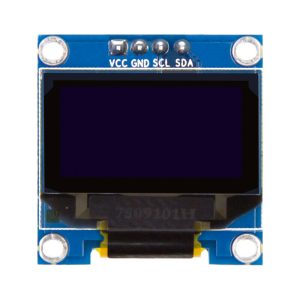 Lastest in Display Technology the NEW OLED Crisp and Clear
Please note our OLED Displays are from Taiwan which offers the brighter crisper display and NOT the cheaper ones from China.
OLED (Organic Light-Emitting Diode): Organic Light-Emitting Diode: Organic Light-Emitting Diode is also known as organic electro-laser display. OLED display technology has self-luminous characteristics. It uses very thin organic material coatings and glass substrates. When current passes, these organic materials It will emit light, and the OLED display screen has a large viewing angle and low power consumption. OLED is also self-luminous and does not need a backlight (it will not be bright only when the power is turned on, and the driver and wiring are correct), high contrast, thin thickness, wide viewing angle, fast response speed, and can be used for flexible panels, Excellent characteristics such as wide temperature range, simple structure and manufacturing process. The first 12864 screens that are touched are all LCDs, which require backlighting, high power consumption and low power consumption of OLEDs, which are more suitable for small systems; due to the difference in luminescent materials between the two, OLED displays better in different environments . The power supply of the module can be 3.3V or 5V, and there is no need to modify the module circuit. The OL ED screen has multiple control commands, which can control the brightness, contrast, switch boost circuit and other commands of the OLED. Easy to operate and rich in functions. Can display characters, ASCII, patterns, etc. At the same time, in order to facilitate the application on the product, four M3 fixing holes are reserved for users to fix on the chassis.
Product parameters:
1. High resolution: 128*64 (Basically the same resolution as 12864LCD, this OLED screen has more pixels per unit area)
2. Wide viewing angle: greater than 160°
3. Low power consumption: 0.06W in normal display
4. Wide power supply range: DC 3.3V-5V
5.Industrial grade: working temperature range -30°C ~70C
6. Small size: 27.3mm*27.8mm* 2mm
7. Communication method: IIC
8. Brightness and contrast can be controlled by program instructions
9. The service life is not less than 16000 hours
10. OLED screen internal driver chip: SSD1306
Pin definition:
Interface type: IIC interface
Easy to define: VCC, GND, SCL, SDA
1. VCC (OLED power supply is 3.3~5V)
2. GND (OLED power ground)
3. SCL (OLED IIC clock line)
4. SDA (OLED IIC data cable)
Each OLED Display will be FULLY inspected tested prior to despatching your order. We will not
accept that they have arrived damaged or non-functioning.
Important
Note Before you decide to Buy: This item is provided with NO
instructions or data sheets. We are unable to provide any technical
support, it is therefore essential that you have the resources available
to make use of this item and how it operates within the electrical
specifications. We check and test each module, we are therefore unable
to accept any returns based on a faulty module.
This item will be fully tested prior to despatch. Buy with confidence. 
Please read and note the following before ordering:
1) My Shipping is for UK Mainland ONLY. No Scotish Highland, Northern Ireland, Isle of Wight or other Isles. Some areas may incur additional costs, if you are unsure please contact me prior to ordering.
2) Please ensure you have a valid contact phone number, I may pass this number onto the Carrier for delivery. No refund for carriage cost will be offered, if delivery is delayed as a result of no valid contact number being provided.
3) I welcome collection for orders,please select collection on checkout otherwise your order will be despatched. Once your order has been picked and tested if applicable. We will then inform you of a date and time for collection. Please bring your payment card for verification when collecting your order. No order will be released without card verification.
4) I am unable to provide ANY technical support, please ensure you fully understand how this item works by checking for any datasheets (not provided with the item), to enable the product to be used within your application / project.
5) VERY IMPORTANT >> Do not make ANY permanent connections. Please test the item BEFORE making any permanent connections e.g. soldering to the item. Please ensure you have the means to test the item WITHOUT applying ANY solder to the item. If an item has any solder applied I will NOT accept any return.
6) When upgrading to 1st class post, (if the option is available), please note this is sent via Royal Mail and is not a guaranteed next day service. If you need a 48hr service please select 48hr delivery at extra cost. This will be sent via Royal Mail or courier. I do not offer a 24hr service. No weekend or public bank holiday deliveries.
7) We attempt to send out all orders received before 10.00am. This excludes weekends and public holidays.
8) Customers placing multiple orders. – I may ship all the orders as one, please do not ask for a refund of shipping cost after you have placed your orders. Please do not place your orders if you want a refund of shipping cost.
9) Some items may have a "Warranty Void if removed" sticker, please DO NOT tamper or remove these stickers. I will not accept any rertuns with tampered or removed sticker. Some buyers have tried to send back items that I have not supplied.
**** Important note **** Some sellers claim the stock is in the UK, please be careful, the seller is often in China and sends the item to a UK agent who then forwards the item on with a UK stamp. Check where the seller is located not just the item location. All my items are physically with me, here in the UK and I offer a quick delivery and communication within the UK.
During busy periods there maybe a delay in delivering your package by Royal Mail. I apologies in adavnce for any inconvenience but would like to point this out before you place your order.