DS3231 RTC Real Time Clock Module AT24C32 IIC I2C Precision
DS3231 AT24C32 I2C Precision Real Time Clock Module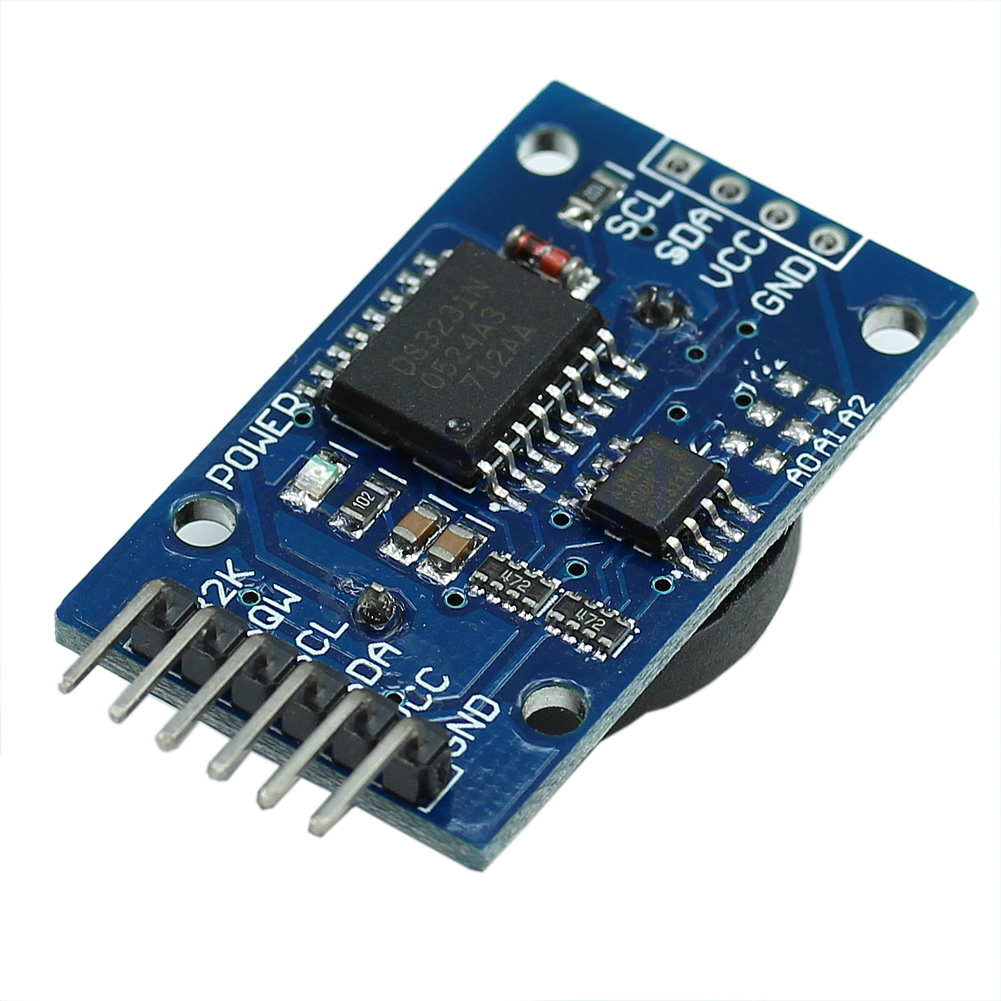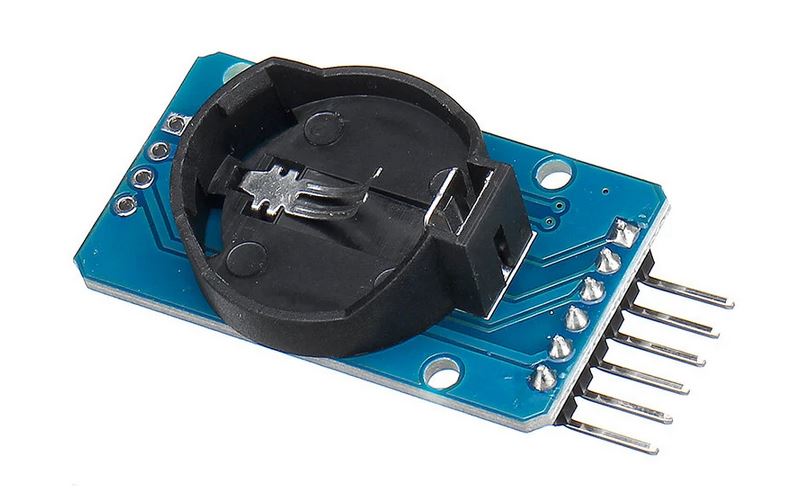 Low-cost, extremely accurate I2C real-time clock (RTC),
with an integrated temperature-compensated crystal oscillator (TCXO) and
crystal.

The device incorporates a battery

(BATTERY NOT INCLUDED) input,
disconnect the main power supply and maintains accurate timekeeping.
Integrated oscillator improve long-term accuracy
of the device and reduces the number of components of the production line.
DS3231 available in commercial and industrial
temperature ranges, using a 16-pin 300mil SO package.
RTC maintains seconds, minutes, hours, day, date,
month, and year information. Less than 31 days of the month, the end date will
be automatically adjusted, including corrections for leap year.
Clock operates in either the 24 hours or band / AM
/ PM indication of the 12-hour format. Provides two configurable alarm clock and
a calendar can be set to a square wave output.
Address and data are transferred serially through
an I2C bidirectional bus.
A precision temperature-compensated voltage
reference and comparator circuit monitors the status of VCC to detect power
failures, provide a reset output, and if necessary, automatically switch to the
backup power supply. 
/RST pin is monitored as generating μP reset
manually.
Save time and high precision addition, DS3231 also
has some other features that extend the system host of additional features and a
range of options.
The device integrates a very precise digital
temperature sensor, through the I2C * interface to access it (as the same time).
Temperature sensor accuracy is ± 3 ° C. On-chip
power supply control circuit can automatically detect and manage the main and
standby power i.e., low-voltage battery (BATTERY NOT INCLUDED) to switch between the power supply.
If the main power failure, the device can continue
to provide accurate timing and temperature, performance is not affected.
When the main power re-power or voltage value
returns to within the allowable range, the on-chip reset function can be used to
restart the system microprocessor.

Module Uses a LIR2032 Lithuim-ion Battery

(BATTERY NOT INCLUDED).
Module parameters:
Size: 38mm (length) * 22mm (W) * 14mm (height)

Operating voltage :3.3 – 5 .5 V

clock chip: high-precision clock chip DS3231

Clock Accuracy :0-40 ℃ range, the accuracy 2ppm,
the error was about 1 minute

Calendar alarm clock with two

Programmable square-wave output

Real time clock generator seconds, minutes, hours,
day, date, month and year timing and provide valid until the year 2100 leap year
compensation
Chip temperature sensor comes with an accuracy of
± 3 ℃

Memory chips: AT24C32 (storage capacity 32K)

IIC bus interface, the maximum transmission speed
of 400KHz (working voltage of 5V)
Can be cascaded with other IIC device, 24C32
addresses can be shorted A0/A1/A2 modify default address is 0x57
With a battery (Battery not included), to ensure the
system after power failure, the clock move any natural normal
Wiring instructions (with Arduino uno r3 for
example):
SCL → A5
SDA → A4
VCC → 5V
GND → GND



Important
Note Before you decide to Buy: This Module is provided with NO
instructions or data sheets. We are unable to provide any technical
support, it is therefore essential that you have the resources available
to make use of the modules and how they operate within their electrical
specifications.
We check and test each module, we are therefore unable
to accept any returns based on a faulty module.
Please read and note the following before ordering:
1) My Shipping is for UK Mainland ONLY. No Scotish Highland, Northern Ireland, Isle of Wight or other Isles. Some areas may incur additional costs, if you are unsure please contact me prior to ordering.
2) Please ensure you have a valid contact phone number, I may pass this number onto the Carrier for delivery. No refund for carriage cost will be offered, if delivery is delayed as a result of no valid contact number being provided.
3) I welcome collection for orders,please select collection on checkout otherwise your order will be despatched. Once your order has been picked and tested if applicable. We will then inform you of a date and time for collection. Please bring your payment card for verification when collecting your order. No order will be released without card verification.
4) I am unable to provide ANY technical support, please ensure you fully understand how this item works by checking for any datasheets (not provided with the item), to enable the product to be used within your application / project.
5) VERY IMPORTANT >> Do not make ANY permanent connections. Please test the item BEFORE making any permanent connections e.g. soldering to the item. Please ensure you have the means to test the item WITHOUT applying ANY solder to the item. If an item has any solder applied I will NOT accept any return.

6) When upgrading to 1st class post, (if the option is available), please note this is sent via Royal Mail and is not a guaranteed next day service. If you need a 48hr service please select 48hr delivery at extra cost. This will be sent via Royal Mail or courier. I do not offer a 24hr service. No weekend or public bank holiday deliveries.
7) We attempt to send out all orders received before 10.00am. This excludes weekends and public holidays.
8) Customers placing multiple orders. – I may ship all the orders as one, please do not ask for a refund of shipping cost after you have placed your orders. Please do not place your orders if you want a refund of shipping cost.
9) Some items may have a "Warranty Void if removed" sticker, please DO NOT tamper or remove these stickers. I will not accept any rertuns with tampered or removed sticker. Some buyers have tried to send back items that I have not supplied.
**** Important note **** Some sellers claim the stock is in the UK, please be careful, the seller is often in China and sends the item to a UK agent who then forwards the item on with a UK stamp. Check where the seller is located not just the item location. All my items are physically with me, here in the UK and I offer a quick delivery and communication within the UK.
During busy periods there maybe a delay in delivering your package by Royal Mail. I apologies in adavnce for any inconvenience but would like to point this out before you place your order.